[Advanced Technology] The DreameBot L10s Pro is a perfect combination of the most popular cleaning robot technologies, a fully automatic vacuum cleaner robot that sucks and cleans floors. This state-of-the-art model features advanced and customizable navigation with obstacle detection. Automate your daily cleaning and come home with freshly cleaned and fragrant floors, enjoy your home.
Total cleanliness: Powerful vacuuming and washing and a minimalist charging station saves space without compromising cleanliness. It reaches deep and absorbs powerfully to remove hair, dirt, dust and deposits for optimal carpet cleaning. Ideal especially for families with pets. Two durable scrubbing cloths rotate at high speed to remove stubborn stains. The removable 190 ml water tank ensures thorough and comfortable cleaning of hard surfaces
Obstacle avoidance: thanks to advanced algorithms for structured light and 3D image, obstacles are cleverly identified so that danger is avoided and cleaning is carried out without any external interference.
[Strong Suction, Deep Cleaning] The Dreame L10s Pro removes dirt with a powerful 5300 PA suction power and two rotating brushes with strong pressure. The intelligent brush design picks up fine particles and makes it easy to detangle pet hair and hair. The automatic suction power regulation allows different power settings depending on the surface for laminate, carpet or hard floors. The 4 suction levels and 3 water levels allow you to adjust the cleaning system to the respective surface: parquet, tiles, carpet, carpets and other types of floors
[Specifications] Package includes a robot with a self-cleaning charging station x1, side brush x1, cleaning tool x1, power cord x1, most with brackets x2, and user manual x1. Specifications: Dimensions of the robot 350 x 350 x 97 mm; Weight 3.7 kg; Wi-Fi connection IEEE 802.11b/g/n 2.4 GHz; Rated input 100-240 V ~ 50/60 Hz 0.5 A; Suction power 5300 Pa; Battery capacity 5200 mAh. Compatible with Siri, and Google Assistant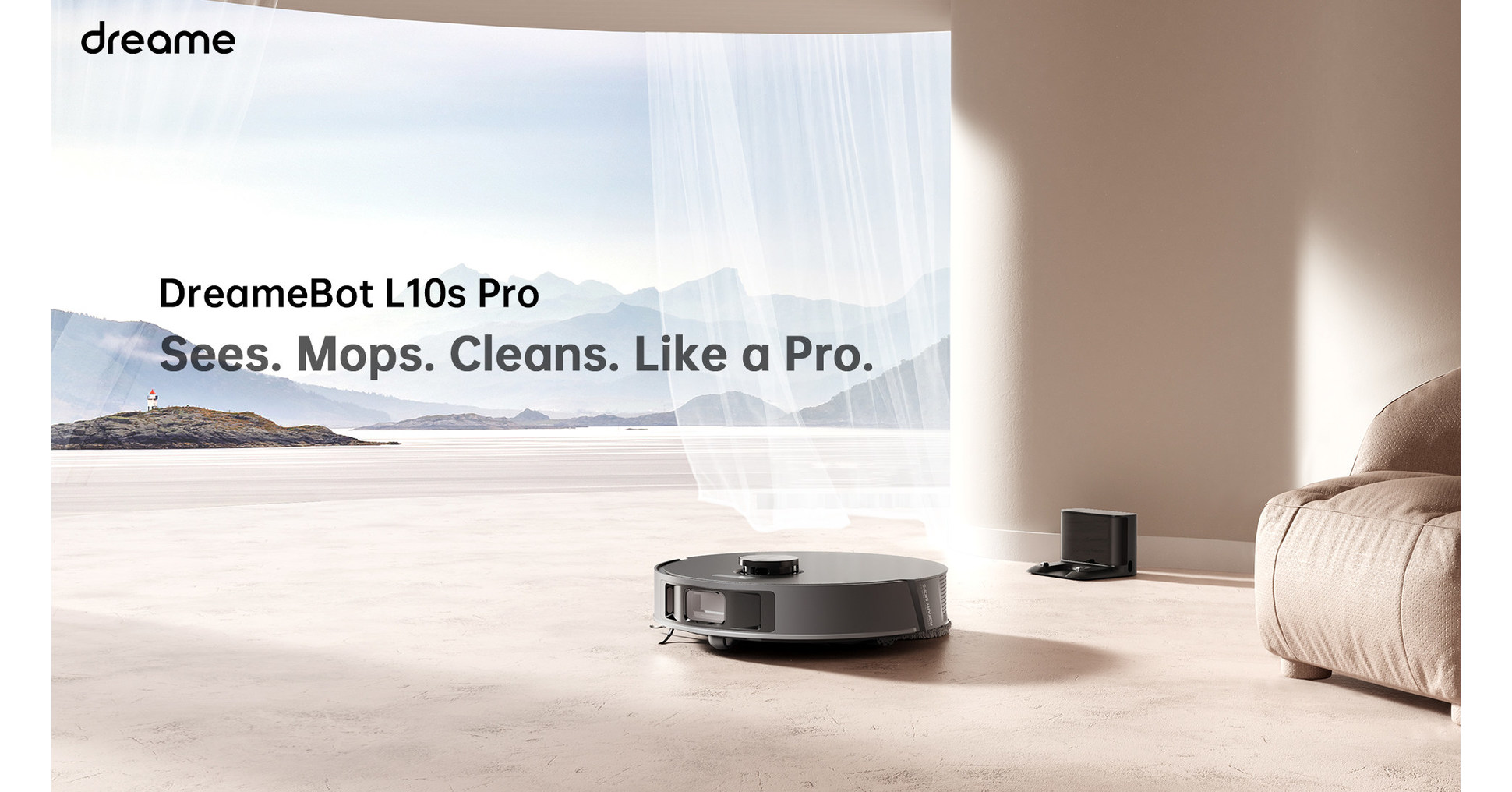 The high suction power of 5,300 Pa and the two advanced rotating mops enable versatile automatic cleaning of both carpets and hard floors.
Sees. wipes Cleans.Like a pro.
Remarkable performance. Remarkable cleaning.

 

Digs deep and sucks with strong suction power. 5,300Pa strong suction and a rubber brush with anti-tangle design for easy hair removal work together to fluff up embedded dirt and suck into the 450ml dust containers.

The two powerful rotating mops wipe up dirt easily. 2 heavy-duty high-speed mops remove any stubborn stains. The detachable water tank with a capacity of 190 ml* ensures thorough and convenient cleaning of hard floors.
cleans. Ensures long-lasting cleanliness.
Accurately detects carpets using ultrasonic technology, automatically lifts mops up to 7mm and increases suction for a thorough clean that eliminates dirt, dust and debris.
Sees. Dodges.
Advanced structured light and 3D imaging algorithms intelligently identify obstacles and detect falls to avoid getting stuck or requiring assistance.
Versatile, space-saving cleaning.
High suction power and robust mopping performance with 4 suction and 3 water consumption levels ensure versatile cleaning of tiles, wood and carpet and other types of floors in your home.
Smarter, faster, more effective.
Maps are used to optimize cleaning routes with intelligent LiDAR navigation. The battery with a capacity of 5,200 mAh ensures long operating times.
A cleaning according to your wishes.
Detailed app control and compatibility with Alexa, Siri and Google Assistant* let you control automatic cleaning with a tap or by voice.
Specifications

Package includes: robot with charging station x1, side brush x1, cleaning tool x1, power cable x1, cloth with brackets x2, user manual x1.
Technical data: Dimensions of the robot 350 x 350 x 97 mm;
Weight 3.7 kg;
Wi-Fi connection IEEE 802.11b/g/n 2.4 GHz;
Rated input 100-240 V ~ 50/60 Hz 0.5 A;
Suction power 5300 Pa;
Battery capacity 5200 mAh.
Compatible with Alexa, Siri, Google Assistant