Power strip with 5 AC outlets, 3x USB, with inductive charging, LDNIO SEW5359, 2m (white)

LDNIO SEW5359 power strip is equipped with 5 AC outlets and 3 USB ports. It allows fast charging in accordance with PD 20W and QC3.0 protocols, in addition, it offers a 15W inductive charging function. Made of high-quality PC material, it is resistant to temperatures up to 850°C, and thanks to its well-thought-out design, it keeps the workplace tidy and does not pose a danger to children.
Convenient charging

The power strip has five European AC outlets, one USB-C port and two USB-A ports, so you can renew the power of up to several devices at once. The product allows you to charge according to PD 20W and QC3.0 protocols, plus it offers a 15W inductive charging function - just place your device on the top panel of the strip.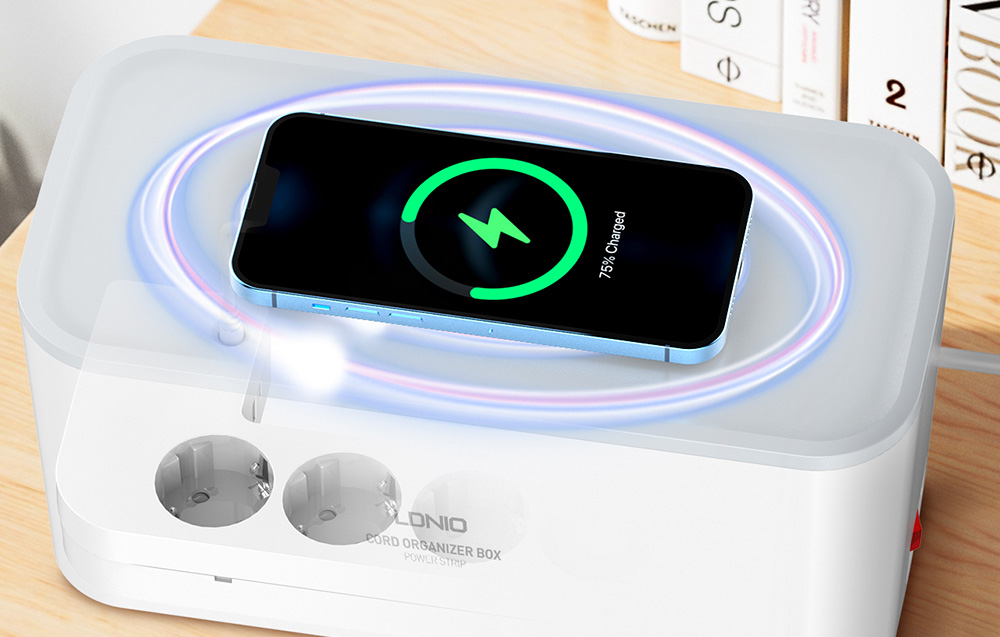 Thoughtful design

The power strip is distinguished by its compact design, and the minimalist design makes the product blend in with modern interiors. What's more, you will take care of order in your workplace or home office thanks to it. The holes located at the bottom guarantee efficient heat dissipation, and the cable hole allows you to conveniently change its position. A button on the side of the strip is also an asset.
Specification:

Manufacturer LDNIO
Model SEW5359
Number of AC outlets 5
Number of USB ports 2
Number of USB-C ports 1
Inductive charging function Yes
Rated power 2500W
PD output 5V/3A; 9V/2.22A; 12V/1.67A; 20W (max).
USB-A output 5V/2.4A (Auto-ID) 12W (max).
QC output 5V/3A; 9V/2A; 12V/1.5A 18W (max).
Input AC100-250V 50/60Hz 10A (max.).
Output power 30W (max.)
Wireless charging power 15W (5W / 7.5W / 10W / 15W) (max)
Cable length 2 m
Color White