NÖRDIC monitor arm for 13 to 27 inch LED LCD screen of max 8 kg with VESA 75x75 mm and 100x100 mm. Laptop holder 5.5 cm in length and 30 cm in width, perfect for laptops with a size of up to 15.6 inches.

Full adjustability - This portable table mount is mounted on a sturdy pillar and is height-adjustable: the distance from the VESA tablet to the desk can be adjusted from 0 to 43.4 cm. Each arm has two joints that can be rotated 180 °. The VESA plate can be rotated 360 ° and tilted from + 90 ° to - 90 °

This adjustable screen mount with lathe holder provides an optimal placement of the screen and makes your workstation more spacious and less disturbing. This allows you to work more comfortably.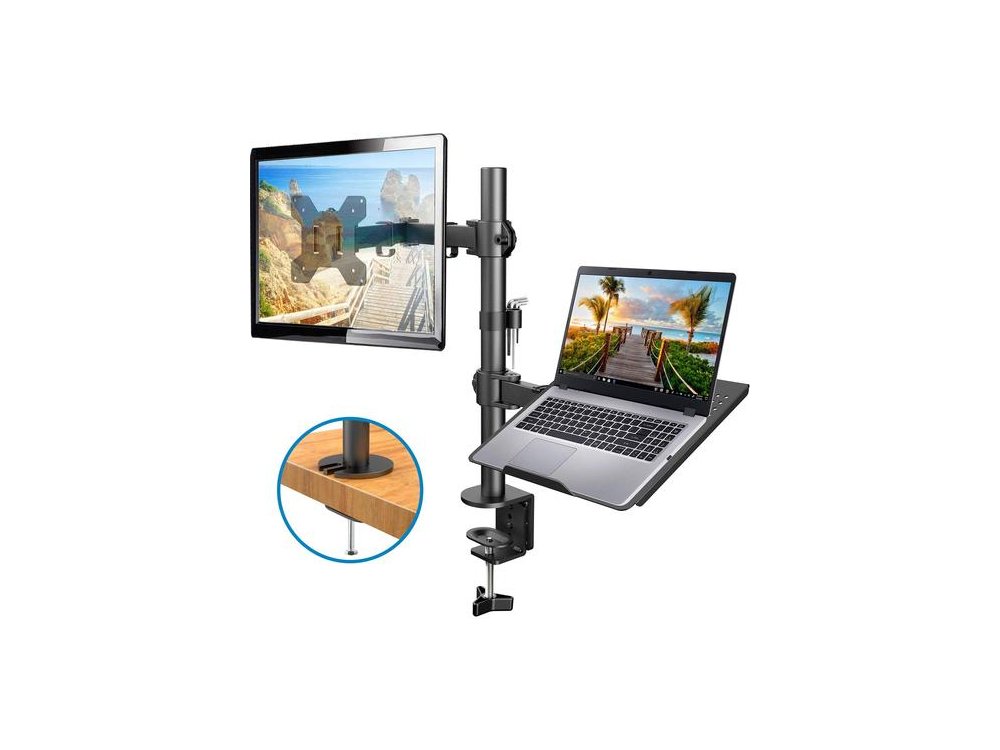 Πλήρης προσαρμοστικότητα - Αυτή η φορητή βάση στήριξης είναι τοποθετημένη σε μια στιβαρή κολόνα και ρυθμίζεται στο ύψος. Κάθε βραχίονας μπορεί  να περιστραφεί 180 °. Η πλάκα VESA μπορεί να περιστραφεί 360 ° και να γέρνει πάνω/κάτω 90 °.
Διαθέτει σφιγκτήρα στη βάση ώστε να μπορεί να προσαρμοστεί σε πολλά έπιπλα, γραφεία, τραπέζια και άλλα.

Αυτή η ρυθμιζόμενη βάση οθόνης και laptop παρέχει τη βέλτιστη τοποθέτηση και των δύο και καθιστά το γραφείο εργασίας σας πιο ευρύχωρο και λιγότερο ενοχλητικό. Αυτό σας επιτρέπει να εργάζεστε πιο άνετα