A unique washing system washes robot mop between mopping, and when cleaning is complete. No more dragging a dirty mop around your floors.
Once the water has been added into the Empty Wash Fill Dock's clean water tank, it will automatically add water into the S7 MaxV as required. Automatic refilling means the mop's wetness is maintained, giving you a consistent clean throughout your home. With refills, the maximum mopping range for the S7 MaxV is 3230 sqft (300 sqm).
Automatic dust emptying means no more manually emptying the robot dustbin. The Empty Wash Fill dock pulls dust into its 2.5 L dust bag, suitable for up to 7 weeks* of cleaning.
* Actual emptying interval will depend on user habits and environmental factors.
With a self-cleaning design, the Empty Wash Fill dock cleans itself, too, for even easier maintenance. As the mop cleaning roller moves, it also pushes dirty water into the drain, where it can be pulled into the dirty water tank.
All-Knowing Intelligence
ReactiveAI 2.0 combines structured light 3D scanning – a process which uses a pattern projected on a scene and uses pattern deformation to recognize obstacles accurately – and an all-new neural processing unit designed to execute Roborock's machine learning algorithms, to make S7 MaxV think smarter, work faster, more easily than ever.
Νέα, αναβαθμισμένη εφαρμογή
Through the Roborock or MI Home APP applications, you can view the 3D mapping of your space, schedule cleaning routines, set boundaries and no-go zone and access the basic functions of the vacuum cleaner at any time, wherever you are
5100 Pa Intense Suction
Clean extra deeply with a maximum suction of 5100Pa* in Max+ mode, and get maximum coverage with precision LiDAR navigation.
Sonic Vibration Technology
Sonic Vibration Technology mops at up to 3000* cycles per minute to shift dry stains that traditional robot mops may leave behind.
Ultrasonic Carpet Detection
Mop floors and vacuum carpets in one clean with the auto-lifting VibraRise mop. The mop lifts* automatically when a carpet is detected to prevent dragging a dirty mop across clean floors.
* Based on internal testing carried out by the manufacturer, using Max+ mode with a full battery. Actual results may vary according to the home environment.
* Based on internal testing carried out by the manufacturer. The term relates to the integrated mop module being able to be driven to produce high-speed reciprocating vibration of up to 3000 times/min, i.e. up to a frequency of 50Hz which is within a "sonic" range (20 to 20,000Hz).
* Based on internal testing carried out by the manufacturer, the mop module can be lifted up to 5mm.
* Automatic mop lifting is only suitable for low-pile carpets no higher than 4mm.
30% Faster Charging
Charges from empty to full in only 4 hours of fast charging. Get up to 180 minutes of runtime in one clean, enough to tackle most homes.
Voice Control
Start a clean, change settings and more with the power of your voice. Amazon Alexa, Google Home, and Siri Shortcuts support.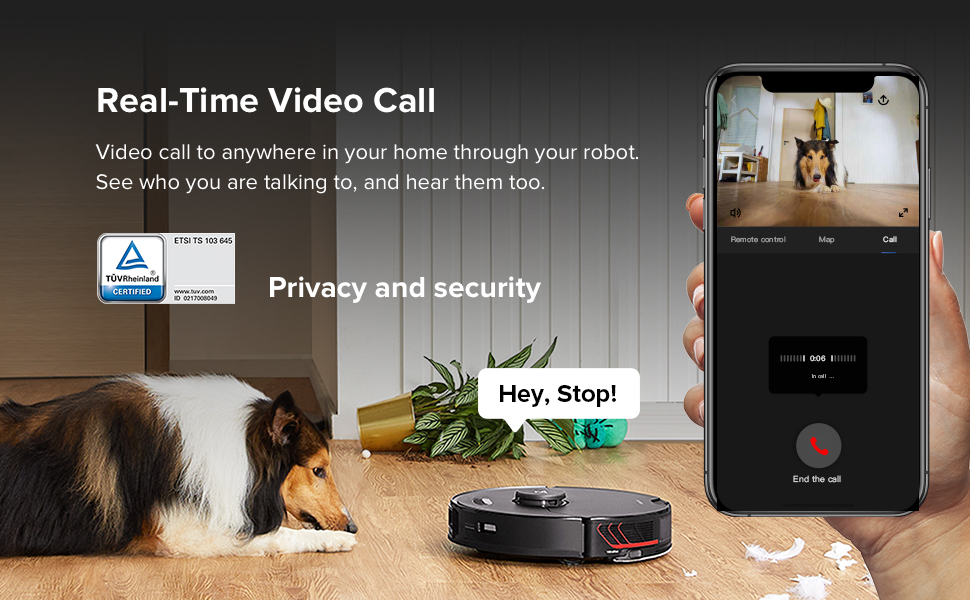 Real-Time Video Call
Video call to anywhere in your home through your robot. See who you are talking to, and hear them too.