! Non-Slip Surface: The velvet surface of the hangers increases the friction and the anti-slip grooves on the shoulders prevent clothes from slipping—even silk shirts

! Slim yet Sturdy: Made of durable ABS plastic, these clothes hangers are slim but very strong; each coat hanger has a max. static load capacity of 5 kg, so even heavy winter coats can be hung without problems

!Space-Saving: Each velvet hanger has a slim profile, allowing you to hang more clothes in the same closet space; the central bar can be used for scarves or tie

! Rose Gold Hooks: The shiny rose gold hooks rotate 360°, helping you hang your clothes neatly while adding a little sparkle to your closet

! What You Get: A set of 50 high-quality velvet clothes hangers with shiny rose gold hooks that are strong and difficult to break, and a better way to organise your wardrobe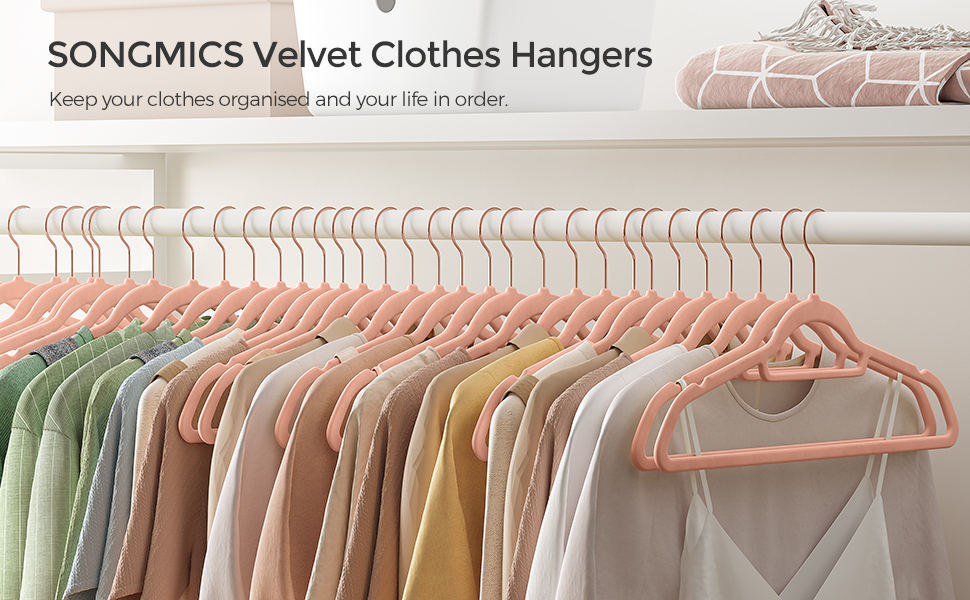 Non-Slip Grooves


The grooves on the shoulders are specially designed to keep clothes with straps in place without slipping.

 

No More Shoulder Bumps


These hangers are curved to fit the clothes shoulders, so no more embarrassing bumps.

 

 

Tie Bars


The tie bar on the hanger offers a place to hold the tie that goes with your suit.
Specifications:
Colour: Light Pink
Material: Velvet, ABS Plastic, Metal Hook
Size of Each Hanger: 43.5 x 0.6 x 22.5 cm (L x W x H)
Total Weight of 50 Hangers: 3.9 kg
Max. Static Load Capacity per Hanger: 5 kg

Package Contents:
50 x Velvet Hanger

SONGMICS Notes:
Do not hang wet clothes on the hangers.
Do not hang overweight items on the hangers.
Do not use these hangers in a tumble dryer.