•  [Movable Clips] The distance between the 2 clips of these trouser hangers can be adjusted (max. 31.5 cm) to perfectly fit trousers and skirts of different sizes; the rubber pads on the end of the clips are anti-slip and will not damage the clothes

 •  [Save Wardrobe Space] With a thickness of 0.6 cm, these velvet hangers are slim and do not take up much space. The trouser clips allow you to hang your jacket and matching trousers together and fit more clothes in your wardrobe

 •  [No More Slipping] The velvet surface of each coat hanger prevents clothing from slipping, even for silk shirts; the shoulder grooves are ideal for hanging clothing with straps, such as camisoles or spaghetti dresses

 •  [Rose Gold Hooks] The shiny rose gold hooks rotate 360°, helping you hang your clothes neatly while adding a little sparkle to your closet

 •  [What You Get] A set of 24 high-quality velvet trouser hangers with adjustable clips, shoulder grooves, and swivel hooks to offer tender protection for your clothes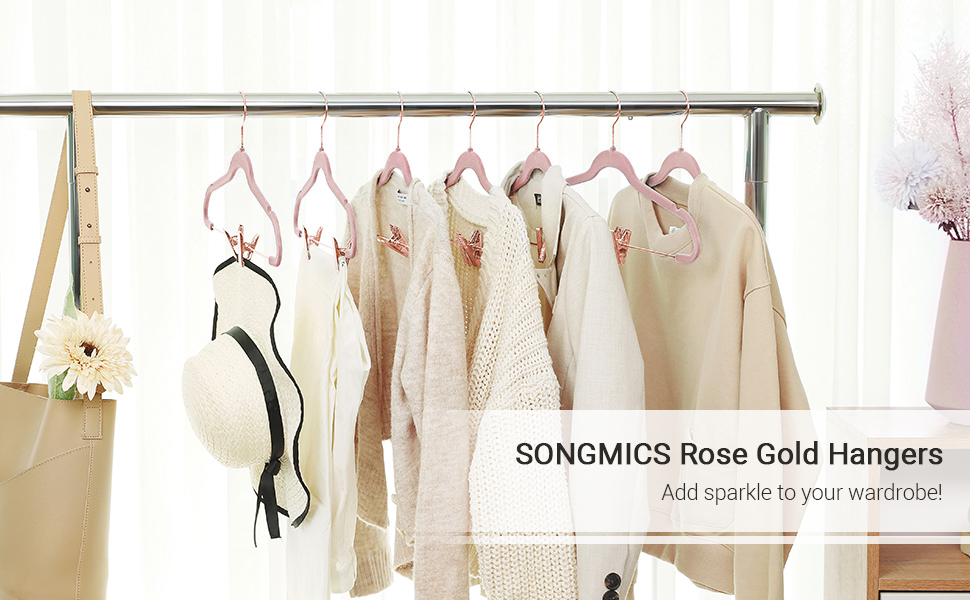 Tired of monotonous hangers that can't bring out the beauty of your clothes? Want to hang the suits together for an easy morning routine? This set of 24 clothes hangers comes to help. Unique rose gold colour gives your wardrobe a new eye-pleasing look. The equipped clips allow you to hang matching clothes together for dressing up quickly on busy mornings or before a night out.
 

Adjustable Clips

The clips can be moved along the bar to fit the sizes of different clothes.

 

Non-Slip Surface


The hangers are covered with quality velvet to prevent clothing from falling down.

 

Padded Anti-Slip Clips


Each clip comes with anti-slip plastic pads to tightly hold pants without leaving unsightly marks.
Specifications:
Colour: Light Pink
Material: ABS Plastic, Velvet, Metal
Size of Each Hanger: 42 x 0.6 x 23.5 cm (L x W x H)
Total Weight of 24 Hangers: 2,7 kg
Max. Load Capacity per Top Hanger: 5 kg
Max. Load Capacity per Trouser Clip: 2.5 kg

Package Contents:
24 x Hanger

SONGMICS Notes:
Do not hang wet clothes on the hangers.
Do not hang overweight items on the hangers.
Do not use these hangers in the dryer.