Viomi Alpha 2 Pro vacuum cleaner
Emptying station
Dust / water tank 2in1
Main brush
Mop holder
Cleaning tool
Main brush cover
User Manual
Quick Start Guide
THE SPECIFIC PRODUCT IS REFURBISHED. For more details please click HERE.
 Dust bags, brushes, mopping cloths and HEPA filters are not included.

The perfect addition to your home
Thanks to the dual navigation system and 4 intelligent laser Lidar sensors, the vacuum cleaner detects obstacles with great accuracy at a distance of 70-90mm. It is programmed to automatically avoid more than 150 common, household objects and furniture, such as shoes, pet bowls or trash cans.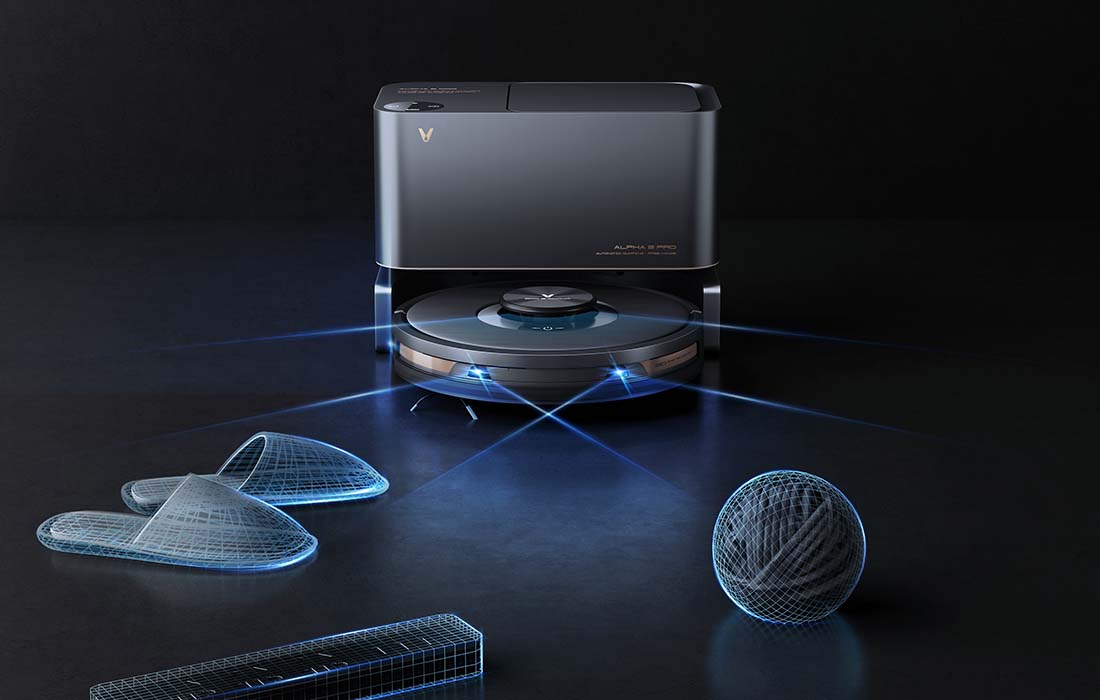 Cleans effectively and maps your space
The upgraded sensor is mounted on the sides of the vacuum cleaner, allowing it to effectively clean floors and walls, even reaching hard-to-reach places. The Alpha 2 Pro is designed with a 360° scanning system to effectively map the space and create efficient cleaning routines. The AI LDS algorithm can scan your space, up to a radius of 6 meters.
Automatic emptying
The Viomi Alpha 2 Pro comes to solve your hands! The Auto-Dumping 2.0 bucket, with a 325mm air duct, takes just 15 seconds to automatically empty the contents of the vacuum's collection container! The triple HEPA filtration system removes 95% of germs and harmful particles from the air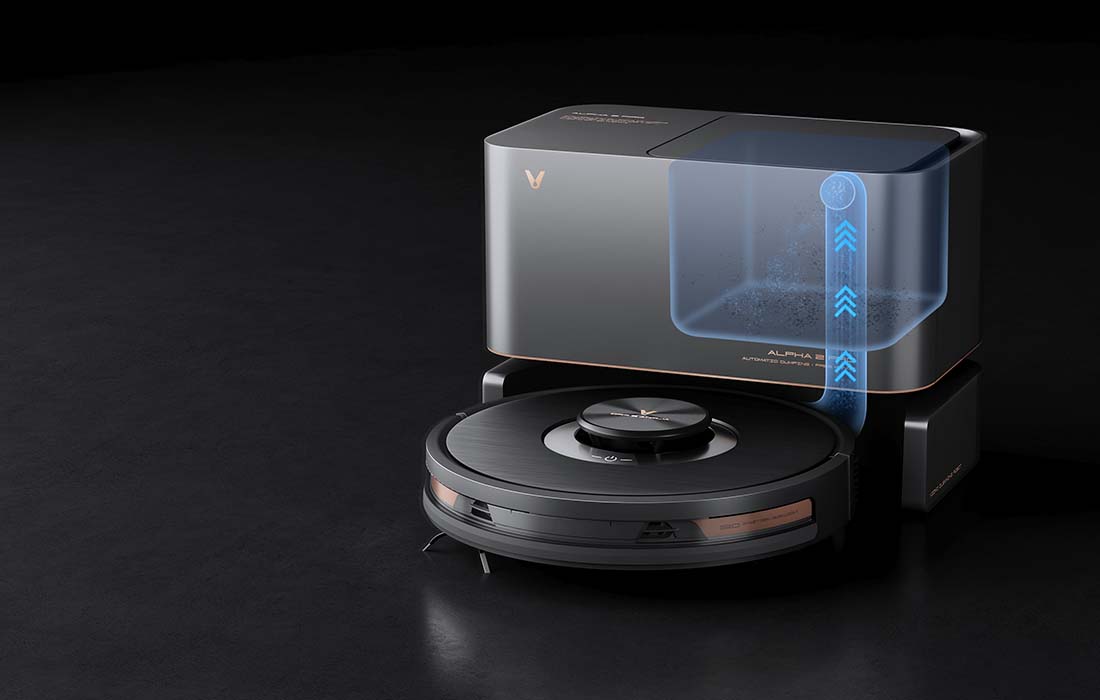 High efficiency
Efficiently collects dust, dirt, debris and residue. The high absorption power of 4,000Pa guarantees perfect efficiency. The vacuum automatically detects stubborn stains and automatically increases the operating power for effective cleaning. Through the app, you can easily select the cleaning mode according to the needs of your space.
Mopping function
Viomi Alpha 2 Pro mops the floors for you. The water tank is electronically controlled to ensure perfect distribution during mopping mode.
Ideal for large spaces
The Viomi Alpha 2 Pro has a 5200mAh battery, allowing it to run for up to 200 minutes continuously. The 320ml water tank, can effectively clean 420m2 on a single charge.
Even more possibilities through the app
Through the app you can unlock even more features for the control and functions of the vacuum cleaner. It also has the ability to program its operation, the places you want it to clean and the cleaning modes.
voice control
The Alpha 2 Pro is compatible with Google Assistant and Amazon Alexa voice assistants, so you can control it with simple voice commands.
| | |
| --- | --- |
| Brand | Viomi |
| Name | Alpha 2 Pro |
| Model | V-RVCLMD40B |
| Weight | 9.2kg |
| Battery capacity | 5200mAh |
| Working time | Up to 200 minutes (Quiet mode) |
| Suction power | 4000Pa |
| OTA Updates | Yes |
| Noise level | About 68dB (Balanced mode) |
| Dust tank capacity | 200ml |
| Water tank capacity | 320ml |
| Dimensions | About φ350x95mm |
| Rated power | 55W |
| Rated voltage | 14.4V |
| Wireless connection | Wi-Fi IEEE 802.11 b/g/n 2.4GHz |
| Working frequency | 2400 - 2835MHz |
Emptying station
| | |
| --- | --- |
| Model | V-RVCLMD40B |
| Rated power | 1050W |
| Rated input | 220-240V~ |
| Rated output | 24V 1.5A |
| Rated frequency | 50-60Hz |
| Dimensions | 405x238x295mm |