VonHaus Dual Arm Wall Mount with Clamp, for 2 Monitors 17"-27", up to 13kg - 3000166
Has the potential to reduce eye, neck and back strain while improving your posture to make you more comfortable whilst you work.

This highly manoeuvrable mount is equipped with +90°, -45° tilt, 180° swivel, 360° rotation, allowing you to reach any desired position with ease; no tools required.

This mount comes with a Gas Spring monitor arm, which perfectly counter balances the weight of your monitor.

Each arm boasts a weight capacity of 6.5kg. It also has cable management which runs through the back of the product.

This mount will fit any and all screens with VESA dimensions of 75x75 or 100x100. Please check your monitor's compatibility before purchasing.

Installation is simple and all tools required are included.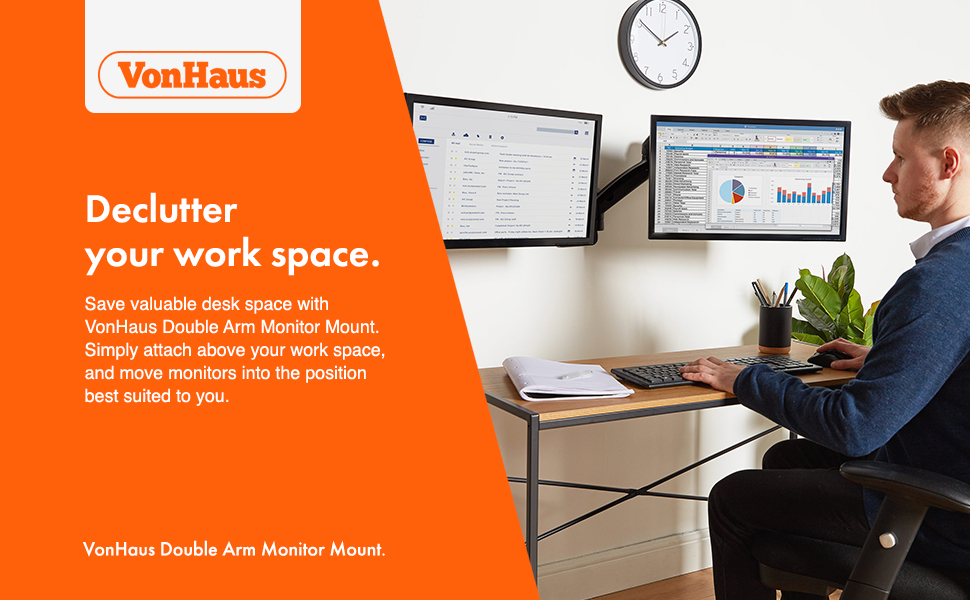 Our Dual Monitor Mount is the perfect addition to your workstation if you are looking to tidy your office space and create more room for other items.
Its cable management does just this by allowing you to keep things in order, your cables will be unseen by running through the back of the product.
With +90°, -45° tilt, 180° swivel, 360° rotation and a fully adjustable Gas Spring arm that balances the weight of your monitor, it will make life much easier.
Suitable for 17-27" screens with a load capacity of 6.5kg per monitor, with a slide-in VESA plate for quick attachment and detachment.
The swivelling arms also offer maximum viewing flexibility and freely adjusting height for the best working position. Its portrait and landscape orientation allows you to match different viewing needs and provides you with the opportunity to work to your best ability.