STATE-OF-THE-ART COMPONENTS.
Selected by one of the toughest critics in the world, the components in the MZ1 are top-tier. Under the shell, you'll find an ARM 32-bit microcontroller and the Pixart 3389 sensor.
ULTRA-LIGHT YET DURABLE.
One reason why Rocket Jump Ninja and Xtrfy teamed up is because we share the same perspective on quality. Specs are meaningless if they don't improve your play. And performance doesn't matter if it doesn't last. The MZ1 is constructed to provide consistent, top-grade performance for years to come.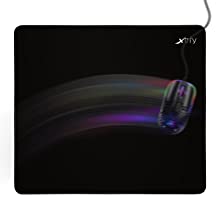 EFFORTLESS GLIDE FOR FAST PLAYS.

The MZ1 features 100 % PTFE skates with rounded edges for smoother glide, while the shape and hole structure of the shell make for a steadier grip. Enhancing airflow under your palm, the holes also help you stay comfortable.
NO SOFTWARE NEEDED.

The MZ1 lets you adjust the CPI, Polling Rate and Lift-Off Distance at the flick of a switch and press of a button. And when you're done adjusting your settings, the top button can be set to "F11", so you can bind it to whatever you want in-game.