FAST READING: This Cooking Thermometer equip with 2-4 Seconds reading out speed brings you accurate temp,Find out the exact temperature of your food in a second and eliminate overdone or undercooked food. Make perfectly cooked beef, chicken, pork, fish, lamb, or turkey every time! For maximum measurement accuracy, a calibration function is provided.

ACCURATE INSTANT READING: meat thermometer with temperature range of -58°F ~ 572°F (-50°C ~ 300°C), accurate to ±1℃(±2℉) between -50~200℃(-58℉~392℉),±2℃/℉ more than 200℃/392℉.

EASY TO USE: Screen shows the temperature clearly in the evening. With this meat thermometer, simply insert probe into your food or liquid, you can get the temperature at any time on the bright and large LCD screen by pressing the backlight button,the screen will light for 5 seconds.The thermometer will auto-shut off to save battery life if readout stays for 10 minutes; With an internal magnet and large hang hole, it can be attached to the refrigerator or hung on the hook easily.

IP67 WATERPROOF: Every gap in the thermometer has a waterproof treatment, this makes it can be cleaning with water. Even if it accidentally fall into the water, you don't have to worry about water penetration.With a strong ABS plastic body,the thermometer is highly durable and resilient.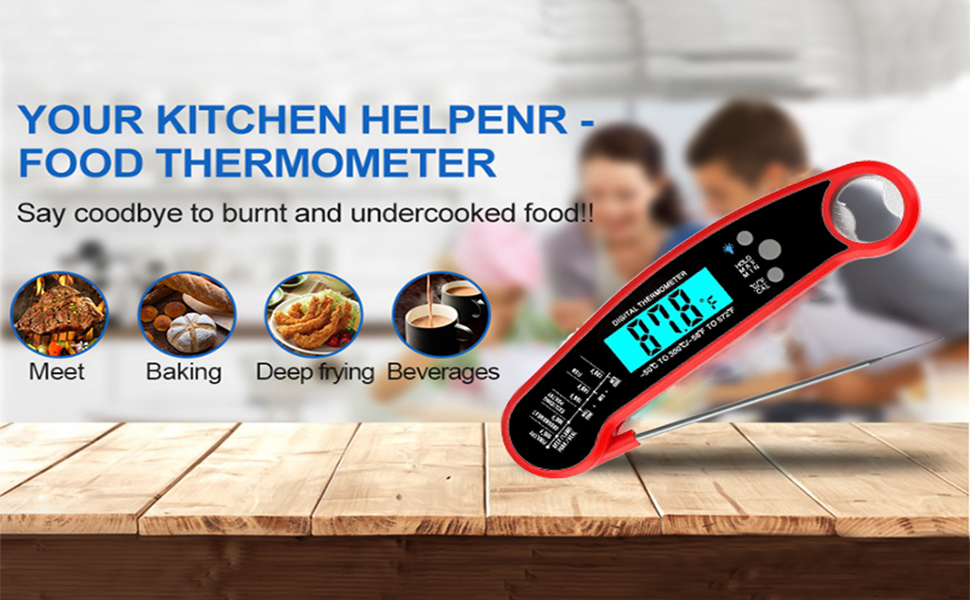 3D Motion Wave

 

 

 


The LCD display is able to rotate based on how position the screen is positioned, which makes it easier for you to read the temperature

 

Waterproof & Safe and Hamless Material


IP67 water resistance can make the cooking thermometer rinsed with tap water directly without any problems. Besides, it is covered with a safe coating to prevent causing damage to internal parts.

 

Built-in Internal Magnets

 

 


There have two internal magnets on the back of the probe thermometer so you can store it on your fridge or steel surface steadily. No need to find out where it was placed.

High-resolution Display

 

 

Aiming to pursuit the perfection, the Meat thermometer is designed to produce the temperature to one decimal place within 3 seconds with an precision of ±1°C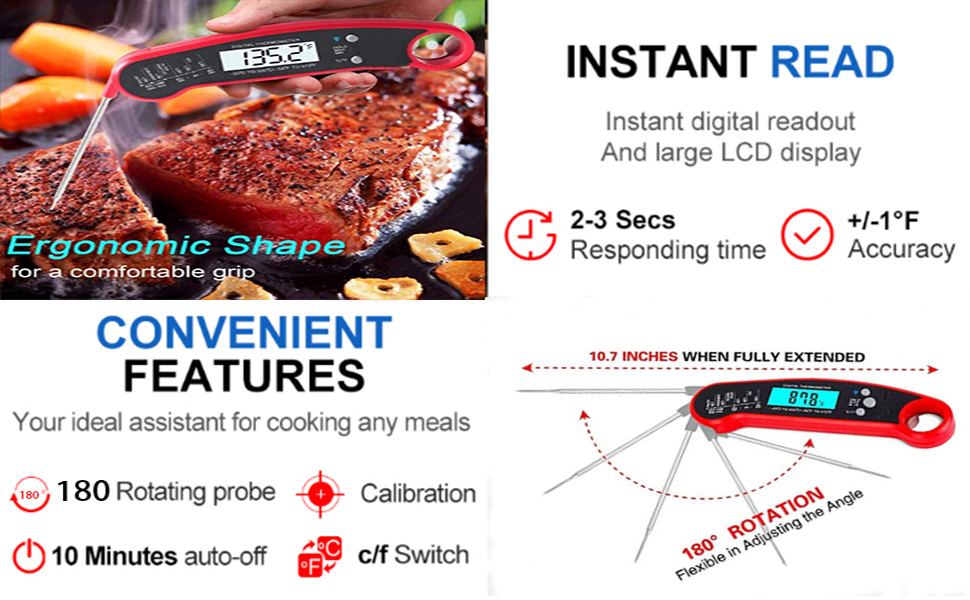 Press the ℉/℃ button to switch the temperature between Centigrade and Fahrenheit.

 

 

Press the 'Hold' button to record the current temperature and press again to retest the temperature. Take a long press of the hold button, the screen will display the max temperature in your test status, press again, it will display the min temperature.

 

Press the light button for an easy reading in dark environment.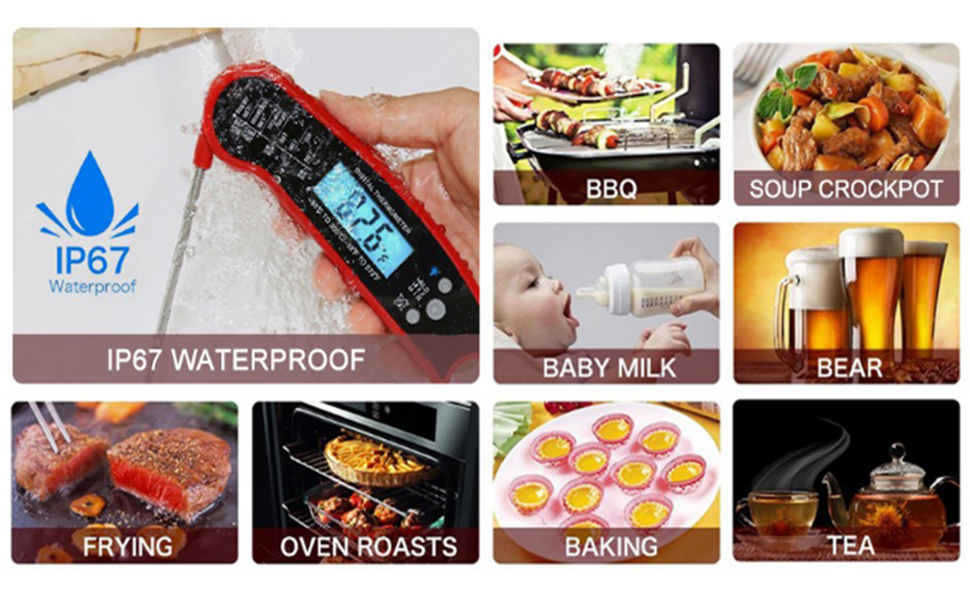 Warm Tips :

1. Never leave it in/on BBQ grill/oven/smoker
2. Please Do Not touch a hot probe with bare hands.
3. Although our food thermometer reaches IP67 waterproof level, please do not immerse it in water for minutes or put it in dishwasher.
4. Remember to clean the thermometer's probe with damp cloth before and after use.
5. Insert the probe into hot water at least 6s to clean it
Package Contents :
1 x Meat Thermometer ( Including CR2032 Cell Battery )
1 x User Manual
Brand AJ
Color Red
Age Range (Description) Adult
Outer Material Acrylonitrile Butadiene Styrene
Display Type LCD
Product Care Instructions Oven Safe, Wipe Clean
Unit Count 1 Count
Power Source Battery Powered
Item Length 10.7 Inches
Upper Temperature Rating 300 Degrees Celsius
Response Time 500 Milliseconds
Reusability Reusable
Water Resistance Level Waterproof
Item Weight 3.98 ounces