Convenient: Our 4 in 1 Bundle includes a stackable 55 nugget ice cube tray, cover, ice bin and scoop. Freeze your ice and dump into ice bin for easy access
Food Grade Plastic: The flexible Plastic Ice Cube Tray with Lid makes uniform, easy-to-remove ice cubes. To release cubes, simply hold the Ice cube tray upside down and twist, gently pushing on each cube from the bottom of the tray
Space Saving: The compact ice cube maker bucket is 6.7 x 10.6 x 3 inches and holds 55 mini ice cube nuggets. The mini Ice cube tray makes 55 ice cubes each time.
Airtight Lid: Our Ice Trays for Freezer with lid keep ice fresh and sanitary by preventing ice from absorbing freezer odors. The covered ice cube trays are stackable and have spill-resistant material.
Chill Your Beverages: Our Mini Ice Mold Maker is perfect for drinks, juices, cocktails, cold coffee & tea, wine, whisky and champagne. Storage in freezer and taking out ice cubes is easy and convenient; use the scoop to add ice into glass
The tray comes with a lid, bin, and scoop so you can have ice ready while making more. The ice cubes are trapezoid shaped making it easy to release the frozen cubes. Simply twist and the ice tray empties into the included bin. Perfect for freezers without an ice machine!
Each tray has a capacity for 55 cubes. With its sleek design, our ice cube tray is convenient to store in mini freezers and is perfect for travel.The lid allows you to stack items on top when your freezer has limited space.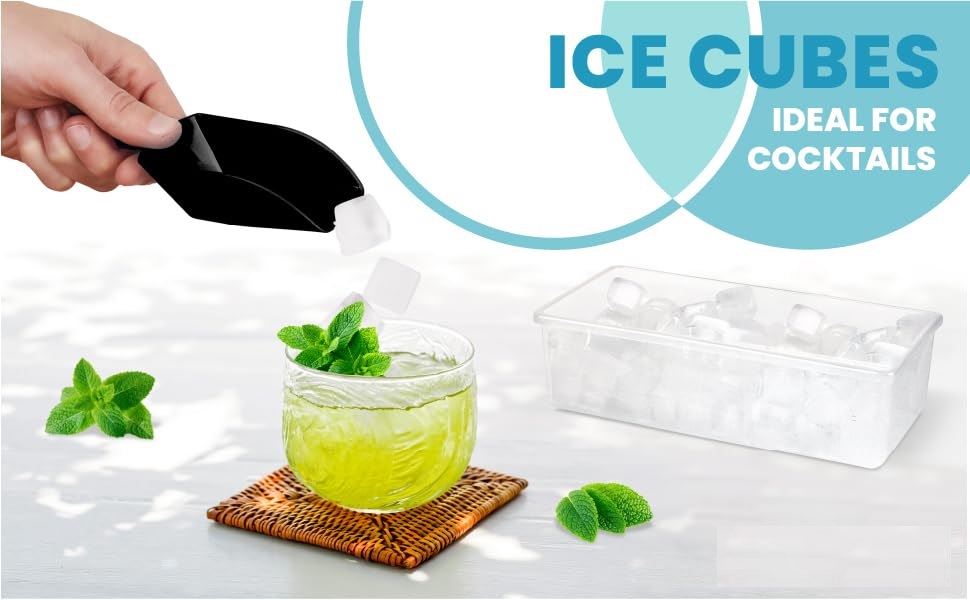 Food Grade Plastic:

This ice cube tray is made of high quality food-grade plastic and is BPA free, so it's safe for use to freeze baby food, herbs, or fruit infused cubes.

Dishwasher safe

Our ice bin for the freezer is dishwasher safe and easy to clean. Simply place it in the top rack of your dishwasher for a hassle-free cleaning experience.

-40 to 250 F

Our Ice Maker for freezer is highly durable and can withstand temperatures from -40F to 250F. Plastic tray and bin will not crack at cold temperatures.