Premium Sound via ACAA 3.0: Enjoy sound with deep, punchy bass, accurate mids, and clear treble direct from our acoustic system's dual dynamic drivers. Its wide frequency range allows every part of the song to shine for detail-rich listening.
360° Immersive Spatial Audio: As you listen to music and watch movies, the built-in gyroscope and spatial audio algorithm track your head movements to always keep you at the center of the sound for a completely immersive experience.
HearID ANC: HearID analyzes how you hear and creates a personalized sound profile to deliver tailored noise cancelling for your ears. Adaptive mode can then adjust the levels depending on the noise levels around you.
CloudComfort Ear Tips: The flexible dual-layer structure adapts to the shape of your ears for a comfortable fit during long listening sessions. Liberty 4 wireless earbuds come with 4 ear tip sizes and the right fit will ensure strong noise cancellation.
Personalized Sound: Liberty 4 true wireless earbuds use soundcore's unique technology that analyzes your ears and the way you hear sound to create a personalized sound profile that's unique to you.
Crisp, Clear Sound
Our upgraded ACAA 3.0 technology has two dynamic drivers to deliver crisp and clear sound.
Outstanding Performance
2 dynamic drivers aligned on the same axis produce Hi-Res sound with 3× more clarity* in LDAC mode.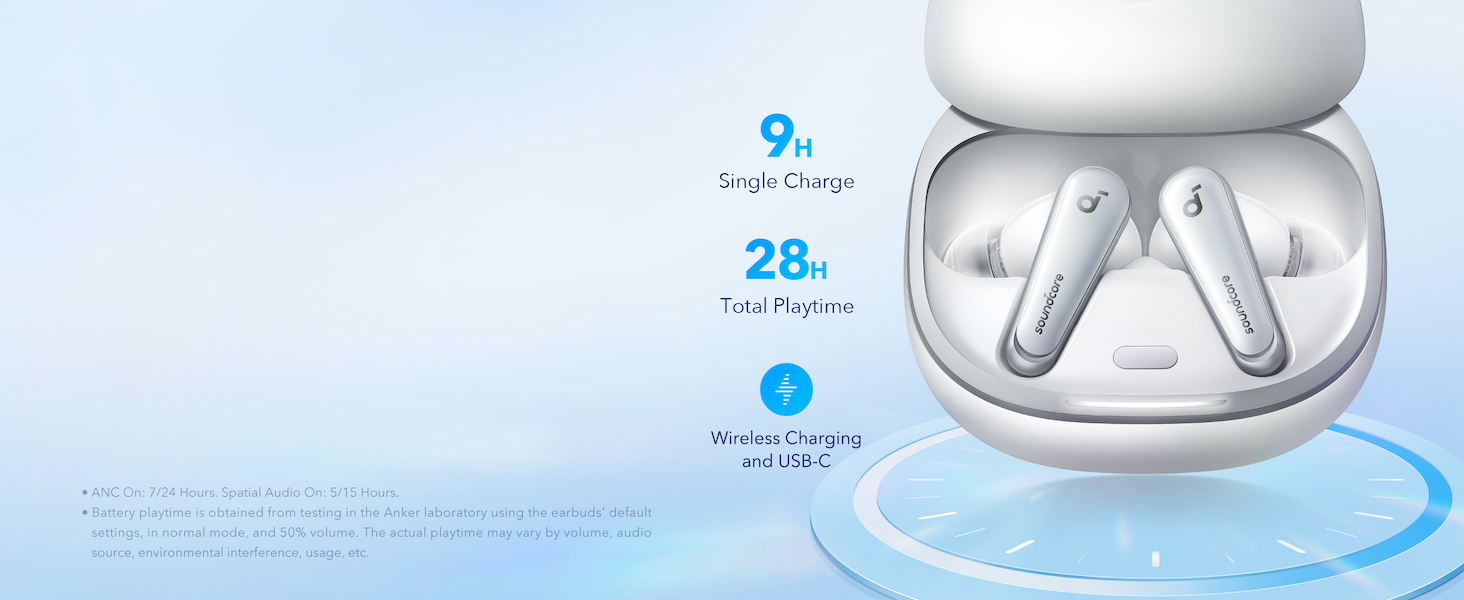 Hear Stunning Detail
Hear every detail from the deep bass to the sparkling treble thanks to the wide frequency range.
Hear the Unexpected
Premium sound quality allows you to rediscover old favorites and create new musical memories.
Immerse Yourself
Put yourself at the center of the sound with 360° Spatial Audio surrounding you from all directions.
Sound That Follows You
The built-in gyroscope detects every tiny movement so sound always surrounds you.
Music and Movie Modes
The spatial audio algorithm tailors the sound to the type of content in music and movie modes.
Sound That's Tuned to You
Create your own HearID signature sound and use the customizable EQ settings for personalized sound.
Adaptive Noise Cancelling
HearID ANC automatically adjusts the noise cancelling for different noise levels around you.
Cloud-Like Comfort
The flexible dual-layer structure relieves pressure on your ear canals for all-day comfort.
Squeeze Control
Easily trigger playback functions with Squeeze Control. Customize via the soundcore app.
In Tune with Your Heart
An in-ear heart rate sensor detects your heart rate while you listen throughout the day.
A Soundtrack for Your Day
Recharge Liberty 4's case with a wireless charger or USB-C cable. The earbuds' playtime is extended to up to 28 hours with the case and you can get up to 3 hours of listening from a 15-minute charge.
Seamless Switching
Connect Liberty 4 noise cancelling earbuds to your phone and laptop at the same time to switch between music, videos, calls, and more.
Exceptional Call Clarity
Liberty 4 noise cancelling earbuds have 6 microphones and a noise reduction algorithm to filter out background noises and enhance your voice in real time–so you can be heard clearly.
Convenient Customization
Access Transparency mode, customize squeeze control to suit your style, and enjoy calming white noise when you want to rest or concentrate on your tasks with Liberty 4 noise cancelling earbuds.