🍃 Quick recharge of Eco Flow River 2 Max via AC in just 1 hour!
🍃 Recharge through a 220W solar panel in just 3 hours!
Ultra compact power supply unit, suitable for charging devices with power up to 1000W.
Supports charging of up to 11 devices at the same time!
The power station has 300W AC outlets, as well as USB-C ports, for greater compatibility with your home devices, but also with small devices and new generation gadgets.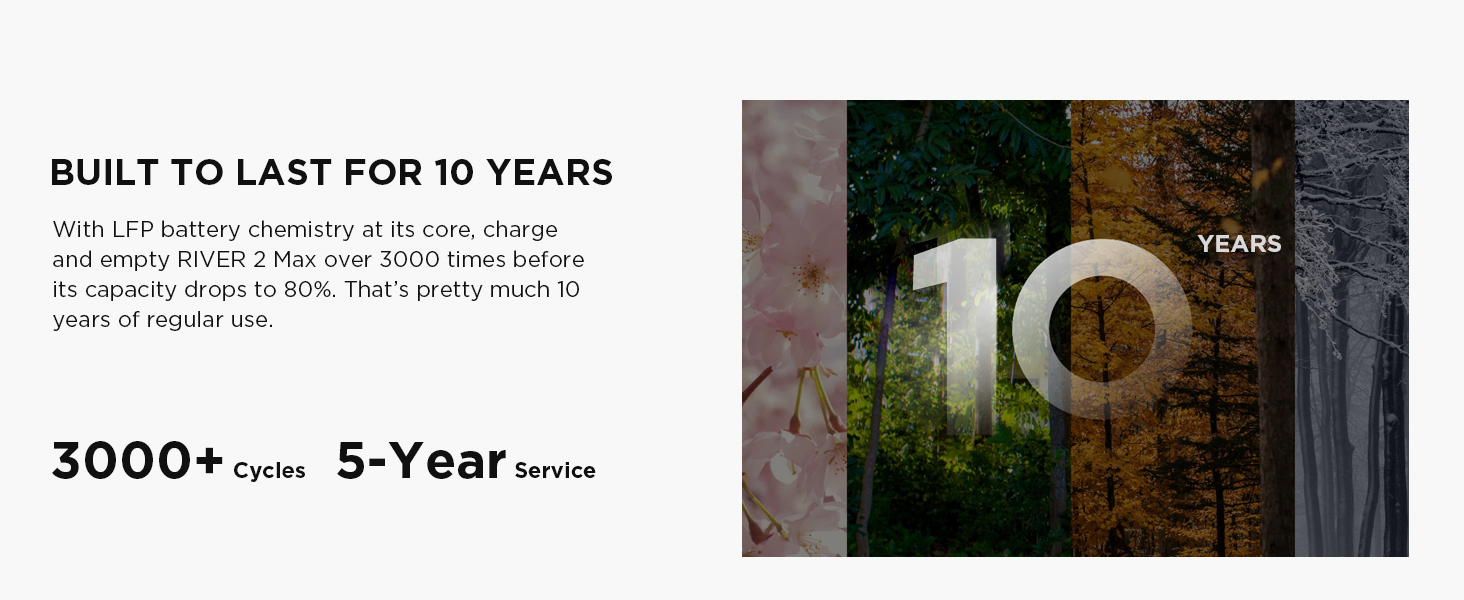 ---
About this item
• 1 Hour AC Recharge - Fully recharge using an AC outlet in only 1 hour with EcoFlow's X-Stream fast charging technology.

 

•  Power All Your Essentials - With an output of up to 1000W, run 11 essential appliances simultaneously without worrying about overloading. With a whole host of ports, from 300W AC outlets to USB-C, we've got all your device's plugs covered.

 

•  LiFePO4 Long-Life Battery - Using LFP battery cells, use and recharge RIVER 2 Max more than 3000 times before hitting 80%. That's almost 10 years of regular use. RIVER 2 Max includes advanced BMS protection, monitoring voltage, current, and temperature to keep your LFP battery running for years.

 

•  Fast Solar Charging - Use clean, green renewable energy to recharge RIVER 2 Max, in as fast as 3 hours with 220W solar input.

 

•  Light & Portable - With a lightweight of only 13.3lbs, RIVER 2 Max is the ideal outdoor generator for all your off-grid adventures. With a built-in handle, this portable battery is easy and convenient to take anywhere you need power.

 

• What's included - RIVER 2 Max, AC charging cable, car charging cable, user manual.
Q&As
___________________________________________________________________________________
How long can the RIVER 2 Max power my appliances?
Run time≈ 512Wh*0.85/operating wattage of your appliances.
Can RIVER 2 Max be used as an uninterruptible power supply(UPS)?
When your RIVER 2 Max is plugged into the wall, anything plugged into it gets power from the grid, not its battery. If power from the grid stops, RIVER 2 Max automatically switches to its battery supply mode within 30 milliseconds.
Can RIVER 2 Max handle high-wattage appliances?
Yes. RIVER 2 Max can power devices up to 1000W with our proprietary technology, X-Boost. *X-Boost can run devices that require up to 1000W, however, it's best to test before use.