✅ MINIMALIST DESIGN - The bread bin by LARS NYSØM is a minimalist piece for your kitchen and a real all-rounder that keeps your favorite pastries fresh for a long time. Perfect for storing bread, onion and potatoes. 13.4x7.3x5.3 In - Height inside: 4.1in
✅ LONG-LASTING FRESHNESS - The bread box has special ventilation holes on three sides, which provide optimal air circulation. The included linen bread bag keeps pastries & bread extra fresh for longer, without moisture & mold.
✅ MULTI-TALENT WITH CUTTING BOARD- The extra sturdy bamboo lid provides optimal storage conditions and is also suitable as a high-quality bread cutting board. The storage box offers enough space for several breads and pastries.
✅ PERFECT AS A GIFT - The sheet steel bread bin has a high-quality finish and is perfect as a gift for bread lovers, friends and family. Ideal for birthdays and Christmas thanks to its appealing minimalist design.
🌱 LARS NYSØM IS CLIMATE NEUTRAL I We are working hard to reduce our carbon footprint through concepts such as plastic-free packaging and reusable products. However, we are far from perfect. That's why we compensate for all CO² emissions that have not yet been avoidable along the supply chain for this product. To this end, we support two climate protection projects: Planting Trees (Germany) and Marine Conservation (worldwide).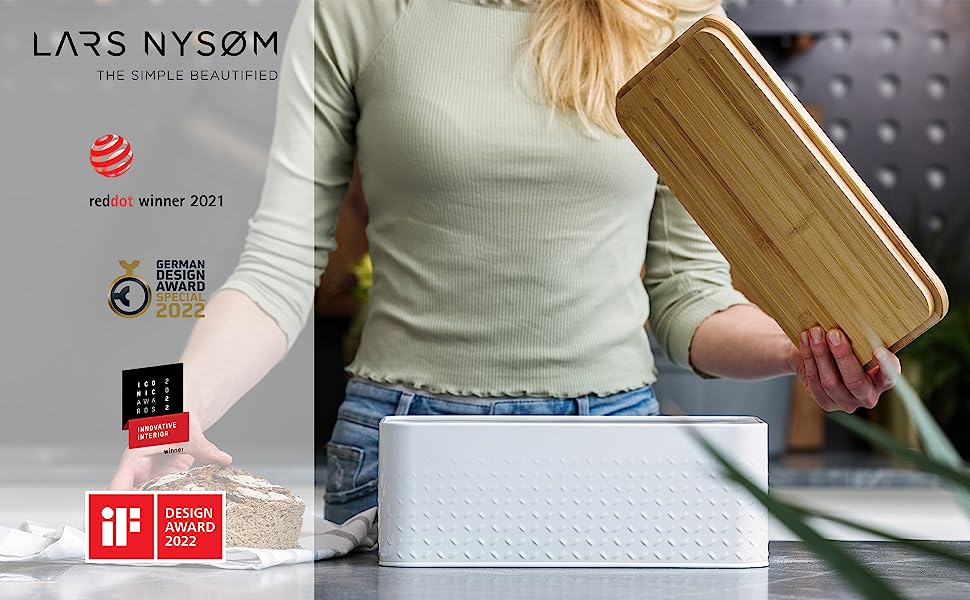 HIGHLIGHTS

 

Ø1 Keeps bread fresh for a long time

 

Ø2 Bamboo cutting board as lid

 

Ø3 Linen bread bag included

 

Ø4 Vents on three sides for optimized air circulation

 

Ø5 Multi-use storage box for bread, potatoes, onions, etc
LONG LASTING FRESHNESS


Air circulation valves on three sides
provide extra-long freshness.

CUTTING BOARD LID


Sturdy bamboo lid with practical
cutting grooves on the bottom.
GLÆDE BREAD BOX
Pure Delight

Combining form and function, Glæde bread boxes embrace the concept of minimalism to preserve the most essential element of an object. In this case, the pure delight that comes with fresh bread.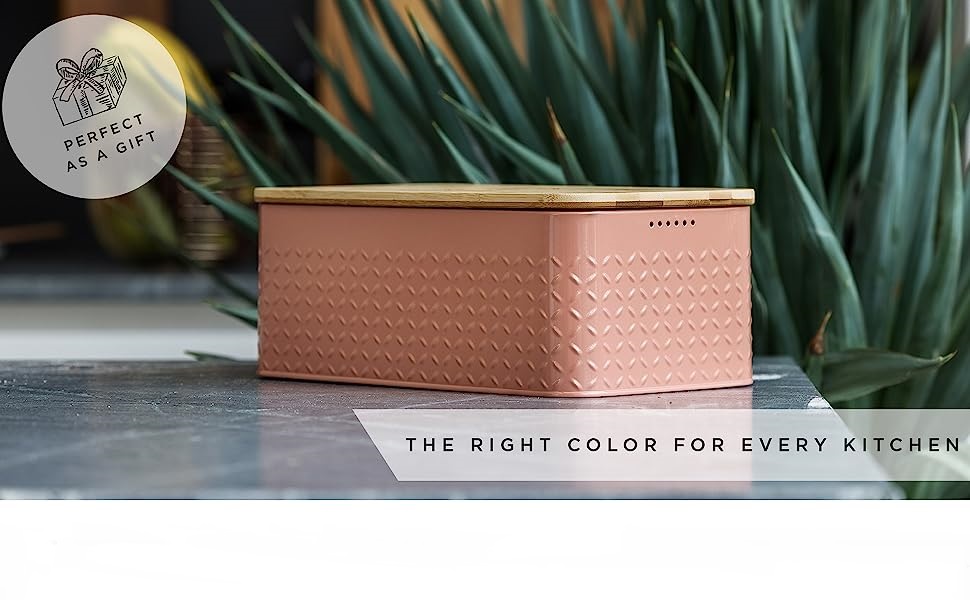 DIMENSIONS
. Width 34,0cm
. Depth 18,5cm
. Height 13,5cm
. Inner height 10,5cm
. Thickness cutting board 2.0cm
. Weight incl. lid 1,570g
MATERIALS
. Galvanized steel (bread box)
. Bamboo (cutting board/lid)
. 70% linen / 30% cotton (bread bag)
EASY TO USE & CLEAN

EASY TO USE
. Bamboo lid can be used as a cutting board
. Bread bag can be used inside & outside the bread box
CLEANING INSTRUCTIONS BREAD BOX
. Place bread box in a place with low humidity
. For cleaning use a dry or damp cloth
. Then wipe bread box thoroughly dry
. Not dishwasher safe
CLEANING INSTRUCTIONS BREAD BAG
. Cleaning by hand recommended for extra durability
. Bread bag washable at 30 ° (max. 600 rpm)
. Not safe for use in a dryer and not microwaveable