• Non-Slip Surface: The velvet surface of the hangers increases the friction and the anti-slip grooves on the shoulders prevent clothes from slipping—even silk shirts

 • Slim yet Sturdy: Made of durable ABS plastic, these clothes hangers are slim but very strong; each coat hanger has a max. static load capacity of 5 kg, so even heavy winter coats can be hung without problems

 • Space-Saving: Each velvet hanger has a slim profile, allowing you to hang more clothes in the same closet space; the central bar can be used for scarves or ties

 • Silver-Coloured Hooks: The shiny silver hooks rotate 360°, helping you hang your clothes neatly while adding a little sparkle to your closet

 •  What You Get A set of 50 high-quality velvet clothes hangers with shiny silver-coloured hooks that are strong and difficult to break, and a better way to organise your wardrobe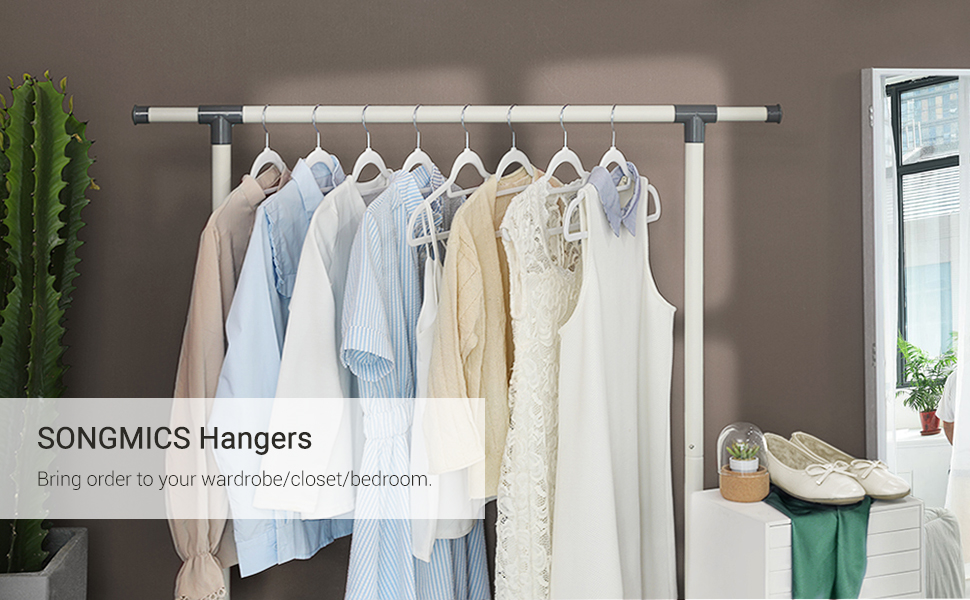 • Find it difficult to choose the right hanger among a variety of styles?
 • Why not take your wardrobe back to the classics with SONGMICS classic-style hangers?
 • After all, simple design is sometimes all we need to get the job done.
 • Whether it's a thick jacket, wool coat, windbreaker, shirt, dress, pants, skirts, scarves, or towels—all of them can be hung and fetched easily.
 • The SONGMICS clothes hanger offers all of your desired features to meet all of your organisation demands.
 

 

 

Non-Slip Velvet


Soft, dense velvet surface keeps garments crease-free and from falling on the floor, and also doesn't rub off or transfer onto your clothes.

 

 

Saves Space


Strong enough for heavy clothes, these slim hangers keep clothes in perfect order while maximizing your valuable closet space.

 

Quality Built


45 cm in length offers full-length support to the shoulders of clothes while 78 g in weight is sturdy for extended use without breaking.

 

 

 

 
When it's an item you use every day, you want to make sure the hanger is making your life easier with its simple, functional design. SONGMICS velvet hangers make getting ready for any day an easy affair.
Double Your Closet Space: Taking up half the space compared to tubular plastic hangers, these 0.6 cm thick slim hangers store twice the clothes in the same amount of space, and are the perfect solution to tiny closets.
Strong Yet Gentle: Strong enough for the heaviest of winter coats, yet delicate enough for your finest dresses. Keeping them free from wrinkles, this pack of 50 hangers don't just look good, they are a total game changer.
For Full Outfits: Comes with a central bar to hang ties, belts, and scarves, and a bottom bar for trousers or pants. The hanger arms are open to store a suit jacket or your favourite shirt or sweater that you like to wear with those pants.
Specifications:
Colour: White
Material: Velvet, ABS Plastic, Metal Hook
Size of Single Hanger: 43.5 x 0.6 x 22.5 cm (L x W x H)
Weight of Single Hanger: 78 g
Max. Static Load Capacity of Single Hanger: 5 kg
Package Contents:
50 x Velvet Hanger
SONGMICS Notes:
Do not hang wet clothes on the hangers.
Keep the hangers away from sources of heat and flames.
Do not use the hangers in rooms with a high temperature or high humidity.
Do not hang heavy objects and laundry on the hangers.
Do not use these hangers in a tumble dryer.